The Incredible Power of Positive Reviews
Standing Out In A Review Driven Market
As the world moves towards a fully digital user experience, online reviews will either make or break your business. It's just common sense. If your business is sitting at 2-3 stars, why would anyone choose you over the competitors sitting at 5 stars?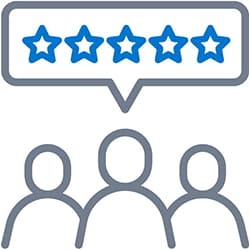 Reviews also give your customers the chance to provide a high-quality review for your products. That, in turn, generates marketing power for your business with very little effort needed on your end!
Reviews Reflect Quality
Many businesses today dread customer reviews out of fear of an honest response. That's because many of these businesses don't offer the quality of service promised, or use manipulative and shady tactics to obtain revenue from customers.
Your business should strive to perform honest work. If you provide the quality service you have promised and avoid wringing your customers dry with additional fees and aggressive contracts, reviews are going to be your best friend.
Asking for reviews is a crucial step in not only growing your business, but in gauging customer feedback to see your strong suits and to possibly find out about your weak points. Now, you don't need to ask every customer for a review, especially those you know have had a bad experience with your business. If a customer appears prone to leave you a bad review, do what you can to make it right, but don't request a review that won't help your business.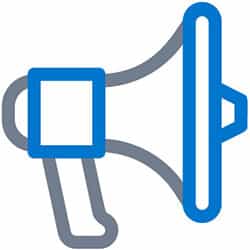 That doesn't mean you should leave those clients behind, however. If a client has a bad experience with you, it's in both of your best interests to rectify the problem and build a positive relationship with them.
By going out of your way to build a relationship with these displeased customers, you avoid the negative reviews and may actually get a positive one in return! You can even win their recurring business, word of mouth, and loyalty from then onwards giving you more value in the long run.
We've Got Your Back!
We know it can be nerve-wracking to get reviews, that's why Move Over Media has developed an integrated review system in order to keep your best foot forward.
Google reviews are quintessential to generating more leads for your business. They help your visibility online, and bring more customers in through your doors.
Our system is designed to:
Provide the feedback you need, while keeping your review ratings high.
Generate client reviews from your website.
Provide you an opportunity to rectify potential negative reviews.
So How's It Work?
When clients navigate to your site to write a review, they'll be asked if they had a positive or negative experience with you. If your client has a positive experience with you, they'll be redirected to your Google Business Listing to write their review.
If the client has a negative experience, they'll be redirected to another page on your site to capture their review. Feedback from negative reviews will then be provided to you, where you will then have the opportunity to resolve the issue with the client to avoid the negative review going public.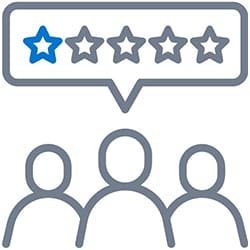 We've made it easy for you to retain your rating on Google, all while still receiving the customer feedback, both positive and negative, that you need to improve your business.
TL;DR: Our system provides you the chance to mitigate negative reviews, and at least turn those clients away from writing a negative review if you're unable to win them back.
Getting Your Foot in the Review Door
Reviews can be acquired from many different places, some of which business owners wouldn't think to find them. Your friends, family, employees, neighbors, etc. are all great places to start when looking to garner more positive reviews for your business.
Isn't it against the rules to ask for reviews? Absolutely not! Anyone who has had a business experience with you in any form is qualified to leave you a review. Unless you are using shady tactics to gain reviews, such as bribery, any reviews that you ask for will be legitimate and in line with the rules. Besides, if you're providing the best quality service you can, you shouldn't have to resort to shady tactics for review gathering.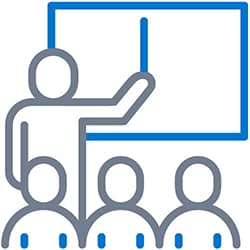 You can ask for a review at any point during your relationship with a customer.
Typically, it's advised that you ask for a review right away. You can even incorporate asking for reviews into a follow-up process with clients. This not only builds a stronger relationship with your clientele, it can drive your staff to uphold your promised quality. Knowing that poor quality will put your business in jeopardy, your team will stay motivated to work hard for your company!
Where to Post Reviews
All review sites will be important in establishing great visibility online. However, the primary place you want to begin generating reviews is on Google, as this has the highest impact on your search rankings (visibility).
Generally speaking, once you've received 10-20 reviews on Google you can begin linking clients to other review sites you may be listed on such as:
Facebook
Yelp
LinkedIn
Alignable
Nextdoor
Final Thoughts
Reviews are a key point in generating more leads for your business, it's in everyone's best interest (besides your competitors) that you provide the best service possible and gather plenty of positive reviews.
To recap, you should aim to:
Gain positive, high-quality reviews from satisfied clients.
Be confident in asking for client reviews.
Go out of your way to rectify any negative experiences clients have with your business.
Establish a solid foothold on your Google reviews.
For A No-Pressure Conversation With a Lead Generation Expert
Call Move Over Media at (727) 291-7273